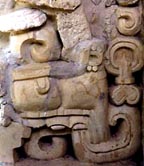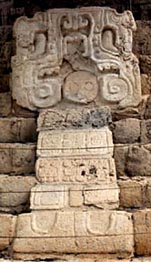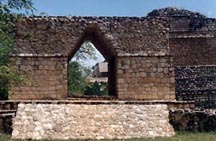 The startling and amazingly well-preserved sculptures uncovered at Ek Balam are exciting to both newcomers and repeat visitors of Mayan sites. Dating from 100 BC to its height at 700-1,200 BC, it is unlike any other Mayan site. Ek Balam has a feel all its own.

The main temple here is impressive, both in size and architecture. Its massive size of over 500 feet long and 200 feet wide easily makes it one of the largest structures ever excavated in the Yucatan. It is so big that one wonders how this could have been built without the aid of iron or the wheel. The intricate detail of the artistry and symbolism incorporated into the frescoes and sculptures decorating this temple are an artistic marvel.

Ek Balam´s most striking temple is one with a huge ¨monster mouth¨. To the Maya this represents a portal to the ¨other world¨. The enormous mouth of the Witz Monster (entry to the underworld), complete with teeth, is awe-inspiring.

Evidence has been found at Ek Balam that blood letting rituals were practiced here. This was self-inflicted by the priest and nobles. Some suggest that one of the human figures depicted above the mouth is in the posture of a defeated enemy about to be sacrificed, so it may also be a site of human sacrifice but to what extent they are not sure yet.

The sculpted works of the Maya ruins at Ek Balam are unusual and extremely well preserved. Some figures are winged, some in the meditative ¨lotus¨ position, one sits headless above the center of the monster mouth. All are beautiful and exquisitely crafted.

Ek Balam also has a very beautiful arch connecting to a sacbe (ancient road). In ancient times, these sacbes connected the Maya kingdoms . The arch is found where these sacbes intersect the entrance to the city. Ek Balam has many sacbes that connect to other Maya cities such as its neighbor, Chichen Itzá.

There is not much information available to the general public about Ek Balam yet, but the archaeologists working there are very excited about what they are finding. They hope to work their way down a subterranean stairway. You can imagine their anticipation as they uncover more fascinating glimpses of the ancient world of the Maya.

At the summit of the major temple at the ruins one can see for miles, on a clear day even as far as Cobá, 30 miles away. Raised sacbes stretch out in each direction, testimonies to the high civilization achieved by the ancient Maya. With sculptures and representations unique among all Mayan sites and its majestic palace and grounds, Ek Balam seems literally untouched by time. In terms of art and architecture, this is a site that is sure to change our fundamental concepts of the ancient Maya.