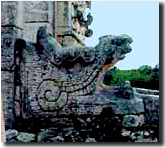 At 8 am (or earlier if you wish) we´ll pick you up at your hotel in the Cancun/Riviera Maya area or the ferry dock in Playa del Carmen.

Then you'll go to Chichen Itzá, the most famous of Mayan archeological sites and one of the "New 7 Wonders of the World". Chichen Itzá has numerous monuments for a visitor to explore. El Castillo, or the grand pyramid, has a staircase on all four sides, each with 91 steps that totaled with the last step on top equal the 365 days in a solar year. Other not to be missed destinations of this great ancient city are: the Main Ball Court, which is the largest discovered from the ancient Mayan world; the Sacred Well or Cenote, where archeologists have discovered a number of well-adorned skeletons of sacrificial victims; the Temple of the Skulls, with its numerous skulls adorning its facade; the Temple Of The Warriors, with its 1,000 columns dedicated to the warriors of Chichen Itzá; and the Caracol or Observatory.

After lunch (either in historic colonial Valladolid or at Cenote Ik'Kil) we´ll continue on to Ek Balam, a newly uncovered Mayan archeological site with some very distinct features. The wonderfully preserved state of the sculptures and frescos Ek Balam are some of the most outstanding examples of the art of the ancient Maya. Some figures are winged, some in the meditative ¨lotus¨ position, one sits headless above the center of the "monster mouth". All are beautiful and exquisitely crafted. At the end of the day we´ll return you back to your hotel or the ferry dock in Playa del Carmen.