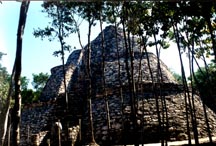 The Maya ruins at Cobá are unique in that only a few of its estimated 6,500 structures have been uncovered, but the ones that have been are graceful and impressive.

On these quiet and peaceful grounds it´s hard to imagine that Cobá may have once had the largest population of all the ancient Mayan cities. This vast Mayan archeological site dates from 600-900 A.D. and there were an estimated 100,000 people living in its domain. It was the heart of a large metropolis composed of many cities within the eastern Yucatan.

Much can be learned about the ancient Maya in the architecture of Coba's pyramids and buildings situated on the shores of several lakes. As many as fifty sacbes (ancient roads) led into this huge Mayan city center, one of them over 62 miles long -- the longest in the Mayan world. Today few people live in Cobá, leaving one to ponder how such a great city fell into complete decline.

The steepness of the Nohoc Mul pyramid (the tallest in the Yucatan at over 126 feet) and the building techniques employed here are characteristic of the Petan region of Guatemala. There are stories that indicate a ruling queen here married a priest from Tikal, which has the tallest Mayan pyramid. This may be why the architecture of the two sites is similar.

Climbing the 120 stairs to the top of the Grand Pyramid at Cobá is well worth the effort. Standing here one can see over the jungle canopy for miles, unexcavated temple mounds peeking above the trees.

The small temple building which crowns the pyramid has two small carvings that are known as a ¨diving god¨ over the door. There are many theories about the meaning of these curious carvings, which are also found in Tulum. They have also been called ¨the bee god¨ or ¨the god descending¨ and have been associated with the planet Venus.

On an early morning walk through these extensive ruins in the jungle, one can see numerous species of birds, butterflies and animals, even the occasional spider monkey. Large ceiba trees intertwine with ancient stonework. The sounds of the jungle create an entertaining symphony. The beautiful natural setting of Cobá is a pleasure to explore.