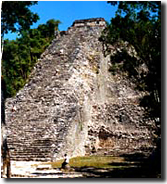 You´ll be picked up at your hotel (anywhere between Cancun and Tulum) or the ferry dock in Playa del Carmen and then go to spectacular Tulum, the most visited of Mayan archeological sites. Perched atop a cliff overlooking the turquoise waters of the Caribbean, it is a photographer´s dream come true! Colorful iguanas bask lazily on rocks in the sun; gentle waves caress the shore. The pristine beach is so beautiful it is almost surreal. It is easy to imagine the ancient Maya landing at this bustling seaport with their canoes filled with trade goods

The Mayan ruins at Tulum have a number of interesting structures from the ancient Mayan world. Graceful columns and elegant carvings give one an appreciation for the architectural achievements of the Maya. Inside the Temple of the Frescoes are fantastic 13th century murals depicting ancient ceremonies. One of the few surviving images of the Mayan goddess of fertility and medicine, Ixchel, can be found here. Red paint still clings to the stucco on the outside of the temple. It is believed that at one time all the buildings in Tulum were painted red. After a guided tour you'll have time to explore on your own. Enjoy Tulum´s gorgeous beach or shop for local crafts at one of the many shops at the entrance to the ruins.

After lunch you´ll continue on to Coba for an afternoon guided tour of these extensive ruins. You may explore the ruins by foot, bicycle or human-powered tricycle. Coba is situated in a lush natural setting filled with many species of animals, birds and butterflies and is a real nature lover´s delight. It is also home to the tallest Mayan pyramid in the Yucatan. From its top you can see above the jungle canopy for miles in each direction. On these quiet and peaceful grounds it´s hard to imagine that Cobá may have once had the largest population of all the ancient Mayan cities. This site dates from 600-900 A.D. and there were an estimated 100,000 people living in its domain. It was the heart of a large metropolis composed of many cities within the eastern Yucatan. End of the day we'll drop you off at your coastal hotel or the ferry dock in Playa del Carmen.