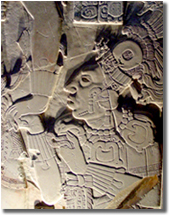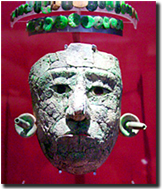 <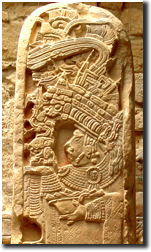 ITINERARY:

Day 1: The international airport closest to Palenque is in Villahermosa, which is 2.5 hours away. If your flight arrives by 4 pm you can go directly to Palenque. Otherwise, you will need to spend your first night in Villahermosa. The hotel shuttle will be waiting when you arrive at the airport to take you to the very comfortable Hilton Hotel Villahermosa where you'll overnight.

Day 2: In the morning your guide will meet you at your hotel and then you go to La Venta Olmec Museum. There are 28 Olmec carvings at this beautiful outdoor museum with interesting zoo and lake. Each piece was set carefully for optimum viewing with benches placed for those wishing to meditate or ponder the huge and amazingly well crafted Olmec heads, intricate altars, and intriguing stele and statues. Based on the earliest long count date inscriptions found at sites that combine both Olmec and Maya influences many scholars theorize that it was the Olmec who invented the long count calendar and initiated the Maya into this system of calculating time. You'll also visit the newly remodeled Carlos Pellicer Museum of Anthropology. On display is the controversial Tortuguero Stela 6 which has rare inscriptions referring to the end of the 13th baktún, which corresponds to December 21st, 2012.

Then you'll travel to Palenque. The town of Palenque is 5 miles from the archaeological site. Like its Mayan ruins, it exudes character, charm and an energy all its own. You'll have free time in the evening to relax in the lush jungle rainforest or explore the sights, sounds and cuisines of Palenque. Your hotel is nestled in the forested "La Canada" area and within walking distance of downtown. Enjoy a refreshment by the pool and upload your photos with the hotel's surprising fast wireless internet connection. Overnight Maya Tulipanes Hotel Palenque.

Day 3: Today you have an entire day for a privately guided visit of the spectacular ruins of Palenque. A UNESCO historical monument, Palenque is considered a world treasure. Ancient structures rise out of the lush rainforest on multiple terraces set against the mountains, many of them built by the great King Pacal in the 6th & 7th centuries AD. There are many major buildings to explore and new buildings are now being uncovered and studied. Many wonderful examples of Maya art and history are carved into the buildings' facades, some of them the most famous depictions from the ancient Maya world. Palenque is exciting because of the vast amounts of information that has been painstakingly brought to light by archeologists over the years. You'll also visit the Palenque archaeological museum with its extensive collection of jade masks, well preserved carvings and incense burners. Overnight Maya Tulipanes Hotel Palenque.

Day 4: Today you enjoy privately guided visits of Yaxchilan and Bonampak. First you go to Bonampak, home of famous Mayan murals. Their ancient colors remain clear and vital, making them an excellent representation of Mayan art. Bonampak was a city of the Maya Early Classic period peaking from 200 to 400 A.D. and has some very well preserved stele that detail important historical moments. The great plaza is astounding in its sheer mass and one of the largest in the region, measuring over 100 yards.

Then you travel down the mighty Usumacinta River to the mysterious ancient Maya site of Yaxchilan. This incredible boat ride through the rainforest with its huge trees and abundant wildlife makes you feel like you are in an Indiana Jones movie! The tremendous archaeological site of Yaxchilan, situated on riverbanks, rises in levels to temples with breathtaking views of the rainforest stretching far into Guatemala. You'll hear stories of ancient Mayan Queens who exerted great power and the modern Lacandon Indians who still worship at Yaxchilan. See howler monkeys and many exotic birds as you roam this well organized ancient Maya city. Overnight Maya Tulipanes.

Day 5: Free day to explore Palenque on your own or choose an optional side excursion. End of day transfer to Villahermosa. Overnight Hilton Hotel Villahermosa. (If you are taking an inter-Mexico flight that departs mid-day or later you can eliminate this overnight in Villahermosa.)

Day 6: Hilton Hotel shuttle to Villahermosa airport for departure.