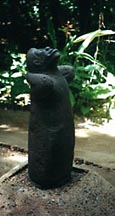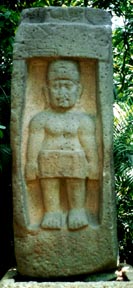 Villahermosa is the capital city of the state of Tabasco Mexico and is a bustling city with a high pitched pace and all that goes with it. Being the crossroads of two main rivers, one can easily understand the trade implications going back to prehistory.

Parque La Venta Olmec Museum is a wonderful jungle oasis within the city for anyone wishing to see the works of the ancient ancestors of the Maya, the Olmec. There are 28 Olmec carvings at this outdoor museum with its interesting zoo, lake, and indoor museum. Each piece was set carefully for optimum viewing with benches placed for those wishing to meditate or ponder.

Parque LaVenta is named after the coastal site where these incredible pieces were found. Discovered in an area rich with oil fields, the carvings were moved here for protection.

There is evidence that the Olmec people were on the North American continent more than 10,000 years ago. The first documentation of shamanistic practices in Mesoamerica occur during the Formative period of the Olmec. The first depictions show the shaman being transformed into the deified form of the jaguar. Their highest civilization dates from 1,200 B.C., although they were at their peak in this area from 800 to 300 B.C. Many believe the Olmec were the cradle civilization for the genepool of Mesoamerica, even calling the Olmecs ¨the mother culture of Mesoamerica.¨

According to The Gods and Symbols of Ancient Mexico and the Maya by Mary Miller and Karl Taube, ¨The Olmecs were the first people in Mesoamerica to create a codified religious universe that we can recognize today through the surviving art.¨

There is little doubt that the Olmec reverence for the prime deities represented by the jaguar, serpent and eagle, had a major influence on the Mayan, Central Mexican and Zapotecan concepts of these deities.

It is at LaVenta that the famous ten foot high Olmec heads were found. There are several in the museum, each with their own enigmatic features. Intricately carved and massive in size, these heads are a stunning example of the sophisticated artistry employed by the ancient Olmec.

We know the Olmec moved these huge basalt carvings weighing tons over more than a hundred miles; how did they do it? One altar in La Venta Olmec Museum weighs over 30 tons. How they were able to create and transport these great works unaided by iron tools or the wheel is one of the truly puzzling mysteries awaiting you at this interesting outdoor museum and zoo.