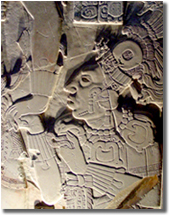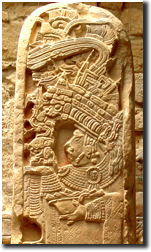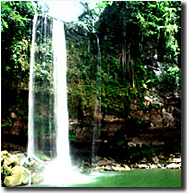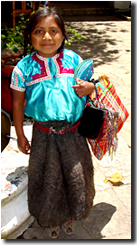 Day 1: The nearest airport to Palenque is in Villahermosa, which is 2.5 hours away. If your flight arrives by Noon you can eliminate one day from this schedule, visit the Villahermosa museums and go directly to Palenque. Otherwise, you need to spend your first night in Villahermosa. A driver will be waiting when you arrive to take you to the Hyatt Regency in Villahermosa where you'll overnight.

Day 2: In the morning your guide will meet you at your hotel and you'll go directly to La Venta Olmec Museum in Villahermosa. There are 28 Olmec carvings at this beautiful outdoor museum with interesting zoo and lake. Each piece was set carefully for optimum viewing of the huge and amazingly well crafted Olmec heads, intricate altars, and intriguing stele and statues.

You

'll also visit the newly remodeled Carlos Pellicer Museum of Anthropology. On display is the controversial Tortuguero Stela 6 which has rare inscriptions referring to the end of the 13th baktún, which corresponds to December 21st, 2012.

Then to Palenque. The town of Palenque is 5 miles from the archaeological site. Like its Mayan ruins, it exudes character, charm and an energy all its own. You'll have free time in the evening to relax in the lush jungle rainforest or explore the sights, sounds and cuisines of Palenque. Your hotel is nestled in the forested "La Canada" area and within walking distance of downtown. Enjoy a refreshment by the pool and upload your photos with the hotel's surprising fast wireless internet connection. Overnight Hotel Maya Tulipanes.

Day 3: Today you have an entire day to visit the spectacular ruins of Palenque. A UNESCO historical monument, Palenque is considered a world treasure. Ancient structures rise out of the lush rainforest on multiple terraces set against the mountains. There are many major buildings to explore and new buildings are now being uncovered and studied. Many wonderful examples of Maya art and history are carved into the buildings facades, some of them the most famous depictions from the ancient Maya world. Palenque is exciting because of the vast amounts of information that has been painstakingly brought to light by archeologists over the years. You'll also visit the Palenque archaeological museum with its extensive collection of jade masks, well preserved carvings and stele and incense burners. Overnight Hotel Maya Tulipanes.

Day 4: Today you journey to Yaxchilan and Bonampak. First you go to Bonampak, home of famous Mayan murals. Their ancient colors remain clear and vital, making them an excellent representation of Mayan art. Bonampak also has some very well preserved stele that detail important historical moments.

Then you travel by boat down the mighty Usumacinta River to the mysterious ancient Maya site of Yaxchilan. This incredible boat ride through the rainforest with its huge trees and abundant wildlife makes you feel like you´re in an Indiana Jones movie! The tremendous archeological site of Yaxchilan, situated on the riverbanks, rises in levels to temples with breathtaking views of the rainforest stretching far into Guatemala. You'll hear stories of ancient Mayan Queens who exerted great power and about the modern Lacandon Indians who still use Yaxchilan as a place of worship. See howler monkeys and many exotic birds as you roam this well organized ancient Maya city. Overnight Maya Tulipanes.

Day 5: Today you journey to San Cristobal de las Casas. On the way you'll stop at the beautiful Misol Ha waterfalls and also visit the ruins at Tonina. Toniná may have been built as early as 350 A.D. but one of its distinctions is having an inscription with one of the last recorded dates of the Maya long count. The building technique is unique in its use of small rocks verses the larger stones used at nearby sites. It also has a very well preserved, somewhat macabre, fresco. Overnight Hotel Casa Mexicana San Cristobal de la Casas.

Day 6: All day tour of the markets, museums and colonial churches of San Cristobal de las Casas. First you'll visit the huge outdoor community market for a unique taste of modern Maya culture. Not a market slanted toward tourism, this market is the heartbeat and center for the entire Mayan economy of the Chiapas highlands. Many Maya groups are represented with a full array of traditional goods that each group specializes in -- textiles, jade, amber, carvings, incense, candles and a wide variety of foods. You'll visit the Jade Museum and Amber Museum which showcase the exemplary skills of local stone carvers. Also visit the weaver's cooperative with its informative displays and have time to shop for or just admire the extremely intricate and ornate huipiles at the textile and handicrafts market adjacent to the Santo Domingo Temple. In the afternoon enjoy the stunning vistas of San Cristobal provided by a trek up to the Temple of the Virgin of Guadalupe church. Overnight Hotel Casa Mexicana.

Day 7: This morning visit the village of San Juan Chamula with its famous Maya church where one can observe the modern religious practices of the Maya. It's a moving experience ... one to be cherished. Then you'll visit the Tzotzil village of Zinacantán with its renowned embroidered textiles. Overnight Hotel Casa Mexicana.

Day 8: Private transfer to the Tuxtla Gutierrez airport for departure.