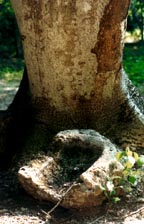 Muyil archaeological site is located on the mainland side of a lagoon in the Sian Ka´an Biosphere. This ecological area of 1.3 million acres houses many secrets. Sian Kaán protects 70 miles of Caribbean coastal reefs, mangroves, and savannas, and is home to over 350 types of birds, as well as pumas, jaguars, ocelots, three different species of monkey, crocodiles, three species of turtle and an abundance of plant species.

It is here among this huge natural diversity that one encounters some of the oldest of Mayan archeological sites, dating back to 300 BC. This site, at which numerous subterranean chambers have been found, has a very different feel from other Mayan sites in the Yucatan. The architecture, with rounded edges on its pyramid and other buildings, and its proximity to protected Caribbean waters makes it an interesting contrast in comparison to some of the more exacting architecture of the inland sites.

Archaeologists are currently researching the role of Muyil as an inland seaport which connected with the Caribbean via the Punta Allen Peninsula. A wide sacbe (ancient road) stretches from the temples to the lagoon. The most prominent building in Muyil is its pyramid. Atop it, one can get a great view of the surrounding jungle and nearby lagoon that is part of the Si'an Kan Biosphere.

Like other sites on the Caribbean, at Muyil there is evidence that much reverence was given here to feminine deities. Many representations of the Mayan moon goddess were found here.

A walk down a path populated with birds, butterflies and abundant wildlife leads to the lagoon in the Sian Ka´an biosphere. One can arrange a boatride to see other ancient Maya sites within the biosphere. The crystal clear waters and lush mangroves are a nature lover's delight. Floating gently through canals that have been used for over 2,000 years, one envies the ancient Maya who once inhabited this unusually tranquil place.