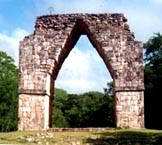 The Mayan ruins at Kabah are located along what is called the "Puuc Route", named after the many sites around Uxmal where the Maya Puuc style of building can be found. It is here in the inland hill country of the Yucatan that the best of Puuc architecture can be found. Although only a small part of this site has been excavated, it is home to some very interesting and unusual buildings and sculptures.

One of the most prominent buildings at Kabah is the Palace of the Masks. This large building´s Chenes-style facade is completely covered with 250 masks of the rain god Chac, who is sometimes called ¨The Big Nosed God¨. It is one of the most impressive in Maya architecture. Similar to other sites in the Puuc region, the people of Kabah were dependent on rain to water their precious crops of corn. Thus the devotion to Chac.

Kabah also has a large arch with a sacbe (ancient road) connecting it with the nearby Mayan site of Uxmal. At the height of the Classic Period, from 600-900 AD, Uxmal was the governmental center for the surrounding areas. Kabah was one of its satellite cities, and although the archeological zone open to the public is somewhat small in size, there is little doubt that Kabah was once a large and thriving city, as there are numerous ruins there still not excavated.

Workers are diligently working on the buildings at Kabah, piecing together some of the details found at this site. Even by today´s standards, the Puuc Maya were without a doubt some of the most ingenious builders and artists when it comes to stone and plaster. Two impressive sculptures grace the facade of one of the temples, amazingly well-preserved considering their fragility and exposed location.

A large pyramid at Kabah is still awaiting to be uncovered in the future. No one knows what artistic treasures may be found under the overgrown jungle trees and vines that cover its surface.