Why book a vacation package
with MayaSites Travel?

** We handle all the details
from arrival to departure
** One stop shopping provides
credit card fraud protection
** 7 days a week customer service
** EXPERTS on travel in the
Land of the Maya!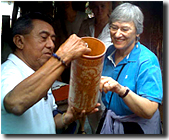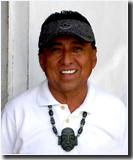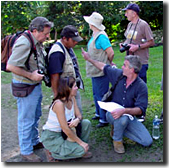 MayaSites Travel Services was founded in 1999 and specializes exclusively in travel to the Maya regions of Mexico, Honduras, Guatemala and Belize. Our mission statement is "To provide the very best experience for those visiting the Land of the Maya".

While living and traveling in the Maya world (and with travel industry backgrounds) we recognized that there were very few companies meeting the individual needs of the client, providing attentive personal service, and offering world class guides in the fields of Maya archaeology and modern Maya culture. At the same time we discovered that these high quality service providers and guides did exist - they just were not being utilized and were not easily accessed by worldwide travelers. As a result, we decided that rather than create a "tour company" MayaSites Travel Services would act as a bridge between the already existing premium service providers and the world of people who want to discover the very best of the Land of the Maya. Our decision not to become another business engaged in "exploitive-tourism" means more money goes directly into the hands of the wonderfully hospitable and hard working people who are actually doing the work which in turn is reflected in their attentiveness to each of our client's needs.

Problems with the language barrier and lack of confidence with booking with foreign companies discourages many in their search to plan a vacation in Latin America. With our U.S. office and English speaking staff, MayaSites Travel Services makes it easy to make your travel plans with confidence.

About Our Tours
MayaSites Travel Services tours are designed to be interactive and hands-on. Our team of guides and coordinators have learned that as we partake in the ever-unfolding process of unlocking the many mysteries of the ancient Maya, all of us, from the expert to the novice, can intuit and give valuable insight that very well could lead to new and exciting discoveries. MayaSites Travel Services prides itself on being flexible and designs economical custom tour/vacation packages for individuals and groups interested in creating their own specialized travel itineraries.

A trained guide/coordinator accompanies you throughout the tour, answering your questions as you go from site to site, serving as a cultural liaison and handling all the details along the way. The most common comment we hear from our clients is that being on a tour with our wonderful guides and drivers is like traveling with good friends who know the area. Your guides travel with you throughout your tour s We work with local guides in each area of the Maya World to provide the highest quality experience.

Guides
MayaSites Travel Services offers premiere guide services with the best guides in the world of Maya. We work with experts who are actively involved in their field of study and provide the most cutting edge and up to date information. From participating in exciting new archaeological finds to researching the culture and sciences of the ancient Maya, our guides give you an educational experience that most other tour companies can't provide. This gives them their trade mark of Excellence. All of our guides are federally licensed professionals who are trained in every aspect of the Maya World - past and present. If you have a particular field of interest we can provide a guide who is an expert in that field: Archaeologists, Anthropologists, Naturalists, specialists in local flora and fauna, ornithology and more.

Drivers
Our drivers are professional licensed chauffeurs who have your safety and comfort in mind. In addition, they not only provide transportation but also help out with luggage, hotel check in and out, picking up lunch "to go", etc.

Tour Coordinators
Although you will probably never see them, behind every tour we have on-the-ground tour coordinators making all necessary arrangements and checking every detail before your tour. While you are on tour they are also there to handle any unexpected needs that may come up. Our 24/7 customer service support is there to assist you throughout your vacation.

MayaSites Travel Services is committed to treating each and every one of our clients as a VIP. Our goal is for you to have the ultimate experience in the Land of the Maya.

What our clients say about our tours!