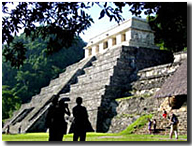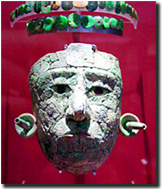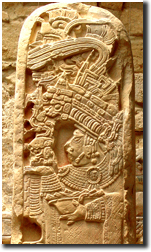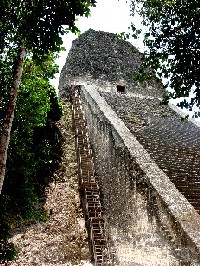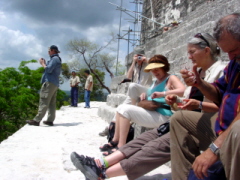 Dec. 8:

Your adventure begins with your flight into Villahermosa, the closest airport to Palenque, which is 2 hours away. Most flights arrive late in the evening so we'll overnight near the airport. The hotel shuttle will be waiting when you arrive at the airport to take you to the nearby very comfortable Hilton Hotel Villahermosa.



Dec. 9:

This morning we visit La Venta Olmec Museum in Villahermosa. There are 28 Olmec carvings at this beautiful outdoor museum with interesting zoo and lake. Each piece was set carefully for optimum viewing with benches placed for those wishing to meditate or ponder the huge and amazingly well crafted Olmec heads, intricate altars, and intriguing stele and statues.

W

e'll also visit the newly remodeled Carlos Pellicer Museum of Anthropology. On display is the controversial Tortuguero Stela 6 which has rare inscriptions referring to the end of the 13th baktún, which corresponds to December 21st, 2012. Then to Palenque. The town of Palenque is 5 miles from the archaeological site. Your hotel is nestled in the forested "La Canada" area within walking distance of downtown. You'll have free time to relax in the lush jungle rainforest or explore the sights, sounds and cuisines of Palenque. Enjoy a refreshment by the pool and upload your photos with the hotel's surprisingly fast wireless connection. Overnight Maya Tulipanes Hotel Palenque.



Dec. 10:

We spend the day visiting the spectacular ruins of Palenque. A UNESCO historical monument, Palenque is considered a world treasure. Ancient structures rise out of the lush rainforest on multiple terraces set against the mountains, many of them built by the great King Pacal in the 6th & 7th centuries AD. There are many major buildings to explore and new buildings are now being uncovered and studied. Many wonderful examples of Maya art and history are carved into the buildings' facades, some of them the most famous depictions from the ancient Maya world. We'll also visit the Palenque archaeological museum with its extensive collection of jade masks, well preserved carvings and stele, incense burners and life size replica of King Pakal's tomb. Overnight Maya Tulipanes Hotel.



Dec. 11:

Today we journey to Bonampak, home of famous Mayan murals. Their ancient colors remain clear and vital, making them an excellent representation of Mayan art. Bonampak was a city of the Maya Early Classic period peaking from 200 to 400 A.D. Bonampak also has some very well preserved stele that detail important historical moments. The great plaza is astounding in its sheer mass and one of the largest in the region, measuring over 100 yards. Overnight Escudo Jaguar Jungle Lodge.



Dec. 12:

This morning we travel by boat down the Usumacinta River to the mysterious ancient Maya site of Yaxchilan. This incredible boat journey through the rainforest with its huge trees and abundant wildlife makes you feel like you are in an Indiana Jones movie! The tremendous archaeological site of Yaxchilan, situated on the riverbanks, rises in levels to temples with breathtaking views of the rainforest stretching far into Guatemala. You'll hear stories of ancient Mayan Queens who exerted great power and about the modern Lacandon Indians who still use Yaxchilan as a place of worship. See howler monkeys and many exotic birds as you roam this well organized ancient Maya city. Then we travel by boat and land to Tikal Inn. Located in Tikal Park, the hotel has obtained exclusive sunrise and sunset access to the archaeological site for their guests. From the hotel's grounds you can observe spider and howler monkeys, coatis, roaming wild turkeys and numerous bird species such as toucans, parrots, and macaws in the towering ceiba trees. Overnight Tikal Inn.



Dec. 13:

Optional sunrise at Tikal. (Weather permitting.) Today we have a full day to visit the spectacular Mayan ruins at Tikal. One of the most famous and beautiful of Maya sites, Tikal's massive and steep pyramids (one is over 200 feet high) loom above the lush jungle of the Peten. With a history beginning at 600 BC when farmers settled in the high ground above the swamps of Lake Peten, at its peak Tikal was home to an estimated 100,000 people and the site has over 3,000 structures within a six square mile area. Glyphic texts tell of a dynamic written historical record spanning over 1,800 years, including a very old long-count date of 292 AD. For your maximum enjoyment of Tikal, climb the highest pyramid, Temple 4, and get a birds-eye view of the site above the jungle canopy. We'll also visit the Sylvanus Morley Museum. Optional sunset at Tikal. (Weather permitting.) Overnight Tikal Inn.



Dec. 14:

Optional sunrise at Tikal. (Weather permitting.) This morning we visit the Maya ruins at Uaxactun. Archaeologists have determined that the four major structures there were probably used for astronomical studies as they are aligned to the sunrise on equinoxes and solstices. Uaxactun is located in the 1.65 million hectare Maya Biosphere Reserve, which is part of the largest body of intact tropical forest in Central America. Then we travel to the ancient Maya site Yaxhá ("Green Water"). Yaxhá was the third largest Maya city in the Peten (after El Mirador & Tikal) and has an unusual layout for the region. Its twin pyramid complexes, 9 acropolis', plazas and more than 500 structures are connected by sacbés (ancient elevated roads) in a manner more similar to Maya sites in the Yucatan. The views of the jungle from the 30 meter high Structure 216 are breathtaking. Birds, butterflies, spider and howler monkeys abound at this remote jungle site. Then we go to Isla Flores for a walking tour the island and the small archaeological site of Tayasal (former Maya name of Flores before the Spanish conquest). Overnight Hotel Peten Esplendido in Flores. OPTIONAL: Evening flight to Guatemala City, transfer to UNESCO World Heritage City of Antigua for overnight. Next day visit market at Chichicastenango. Fly home Dec. 16. Contact us for details.



Dec. 15:

Transfer to the Flores airport for 8:05 am short non-stop flight to Guatemala City (air tickets not included in the tour).