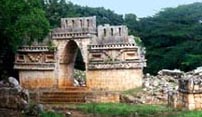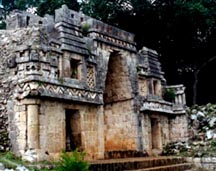 Labna, like its neighbor Kabah, is built in the Classic Puuc style. Labna dates between 600-900 A.D. A small and intimate site, it is filled with exquisite and intricate details. The Puuc Maya style of building is astounding for its incredible artistry. Without the use of iron, the builders seem to have accomplished the impossible.

Upon entering this site, the first building on the left (El Palacio) has a large rendition of the rain god Chac over the front door. As in other cities in the Puuc region, which has very few rivers or streams, a great reverence to Chac is shown in the numerous representations of this deity.

On one corner of the building a serpent opens his mouth revealing the head of a human. Notice the intricate geometric forms and patterns carved into the trim work. Each design has a specific meaning in the cosmology of the Maya.

The corbelled arch at Labna is famous for being one of the most intricately decorated yet discovered in the world of the ancient Maya. Chac masks are seen on both of the arch´s upper corners. Carvings of stylized Mayan huts appear above the doorways.

Like other arches at Mayan sites, it was an entrance to the city with several sacbes (ancient roads) leading up to it. Sacbes are intellectually and metaphysically challenging. The Maya created these limestone capped brilliantly white highways connecting the many cities of the Yucatan, yet no wheel was ever used to create them and no wheel ever traversed them.

Down the sacbe and under the arch you come to El Mirador, an unusual structure perched on top of mound with a well-preserved roofcomb and remnants of a sculpture of a human figure on its corner. Without iron to chisel and sculpt these vast cities of rock, and no wheel or beast of burden to move them, our preconceived notions of the capabilities of "stone age" people can´t help but be challenged.