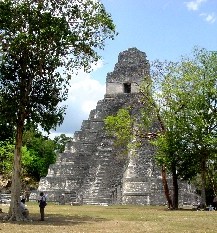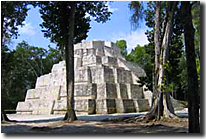 Day 1: Your adventure begins with your evening flight from Guatemala City to Flores (closest airport to Tikal). When you arrive you'll transfer directly to Camino Real Tikal. Located on lovely Lake Peten it is a very comfortable base for exploring the sites in the region. Overnight Camino Real Tikal.

Day 2: You have a full day to visit the spectacular Mayan ruins at Tikal. One of the most famous and beautiful of Maya sites, Tikal's massive and steep pyramids (one is over 200 feet high) loom above the lush jungle of the Peten. With a history beginning at 600 BC when farmers settled in the high ground above the swamps of Lake Peten, at its peak Tikal was home to an estimated 100,000 people and the site has over 3,000 structures within a six square mile area. Glyphic texts tell of a dynamic written historical record spanning over 1,800 years, including a very old date of 292 AD. For your maximum enjoyment of Tikal, climb the highest pyramid, Temple 4, and get a birds-eye view of the site above the jungle canopy. You'll also visit the Sylvanus Morley Museum. Overnight Camino Real Tikal.

Day 3: In the morning visit Lake Yaxhá. On the banks of its beautiful lagoon is the Maya ruin site of Yaxhá ("Green Water"). Yaxhá was the third largest Maya city in the Peten (after El Mirador & Tikal) and has an unusual layout for the region. Its twin pyramid complexes, 9 acropolis', plazas and more than 500 structures are connected by sacbés (ancient elevated roads) in a manner more similar to Maya sites in the Yucatan. The views of the jungle from the 30 meter high Structure 216 are breathtaking. Birds, butterflies, spider and howler monkeys abound at this remote jungle site. Then to Flores for a walking tour of the island and the small archaeological site of Tayasal (former Maya name of Flores before the Spanish conquest). Overnight at Hotel Peten Esplendido in Santa Elena (across the causeway from Flores Island).

Day 4: Early morning transfer to Flores airport for flight to Guatemala City.