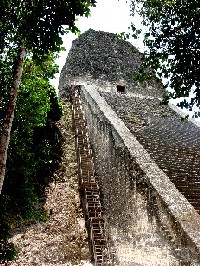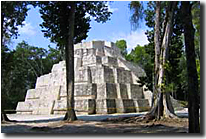 Dec. 15: Your adventure begins with your evening flight from Guatemala City to Flores (closest airport to Tikal). Arriving at 7:30 pm we'll transfer directly to the Tikal Inn. Located in wildlife filled Tikal Park, the hotel has obtained exclusive sunrise and sunset access to the archaeological site for their guests. From the hotel's grounds you can observe spider and howler monkeys, roaming wild turkeys and numerous bird species such as toucans, parrots, and macaws in the towering ceiba trees. Overnight Tikal Inn.

Dec. 16: Optional sunrise at Tikal. (Weather permitting.) Today we have a full day to visit the spectacular Mayan ruins at Tikal. One of the most famous and beautiful of Maya sites, Tikal's massive and steep pyramids (one is over 200 feet high) loom above the lush jungle of the Peten. With a history beginning at 600 BC when farmers settled in the high ground above the swamps of Lake Peten, at its peak Tikal was home to an estimated 100,000 people and the site has over 3,000 structures within a six square mile area. Well preserved glyphic texts tell of a dynamic written historical record spanning over 1,800 years, including a very old long-count inscription date of 292 AD. For your maximum enjoyment of Tikal, climb the highest pyramid, Temple 4, and get a birds-eye view of the site above the jungle canopy. We'll also visit the Sylvanus Morley Museum. Optional sunset at Tikal. (Weather permitting.) Overnight Tikal Inn.

Dec. 17: Early morning we'll visit the Maya ruins at Uaxactun, located in the 1.65 million hectare Maya Biosphere Reserve, which is part of the largest body of intact tropical forest in Central America. Archaeologists have determined that the four major structures at Uaxactun were probably used for astronomical studies as they are aligned to the sunrise on equinoxes and solstices. An important part of the history of how Tikal became one of the great empires of the ancient Maya world was its conflict with Uaxactun. Tikal and Uaxactun are so close to each other (just 12 miles apart) that they engaged in a long period of struggle for domination of the region. To quote Schele & Freidel in A Forest of Kings: "Their competition ... was resolved violently in AD 378 by means of an innovative type of warfare we call Tlaloc-Venus war, or sometimes simply "star wars". This new method of warfare was borrowed from the central Mexico civilizations and had a great impact on the wars between the kingdoms of the Peten region. Unlike former wars that were ritualized combats for personal glory and to capture captives to sacrifice to the gods, this new warfare had much higher stakes -- if you lost the war you lost your kingdom.

In the afternoon we visit Lake Yaxhá (where "Survivor Guatemala" was filmed). On the banks of its beautiful lagoon is the Maya ruin site of Yaxhá ("Green Water"). Yaxhá was the third largest Maya city in the Peten (after El Mirador & Tikal) and has an unusual layout for the region. Its twin pyramid complexes, 9 acropolis', plazas and more than 500 structures are connected by sacbés (ancient elevated roads) in a manner more similar to Maya sites in the Yucatan. The views of the jungle from the 30 meter high Structure 216 are breathtaking. Birds, butterflies, spider and howler monkeys abound at this remote jungle site. Then we go to Flores for a walking tour of the island and the small archaeological site of Tayasal (former Maya name of Flores before the Spanish conquest). In the evening we go to the Flores airport for 7:55 pm flight to Guatemala City.